In what is probably the biggest change to the game economy since platinum was added in 2012, it's now possible to get massive amounts of plat as part of a new $9.99 per month subscription.
What are Platscriptions?
Platscription is a monthly subscription offer intended to A) help cover server costs, and b) to experiment what it would be like to monetize the game as a more affordable subscription business model than as a microtransaction business model.
With the new system, active subscribers can get access to all the platinum features in the game, including all construction & dungeon objects.  The only things that would require the old plat packs are high plat clothing items and larger town expansions.
The new system should allow for plat stores to be restocked more easily, allow more players to build dungeons, as well as encourage more daily activity.
What does it include?
Subscribers receive:
Access to 9BitMMO
Try out this 3D test viewer to see your 8BitMMO creations in glorious 3D (note – 9bitmmo has higher system requirements than 8bitmmo, see 9bitmmo.com).
Up to 5 ~ 10 plat each day
Use the 'Grant Plat' button once per day to set your platinum currency to between 5 ~ 10 plat depending on your activity level and bonus chance.
2x gold boost
Earn twice as much gold in PvP and PvE, and the max gold per cycle limit is doubled as well.
How do I get it?
This system is currently only available to players of the standalone or web version of the game (through Stripe credit card payment), although if there is demand, I may expand to support Patreon and/or Steam.
Menu > Get Gold will show a new window for standalone/web players: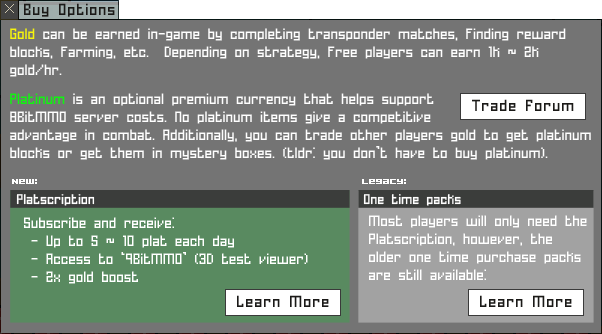 Choosing Learn More for Platscription will allow you to access the Platscription window, and if you're a subscriber, claim daily plat: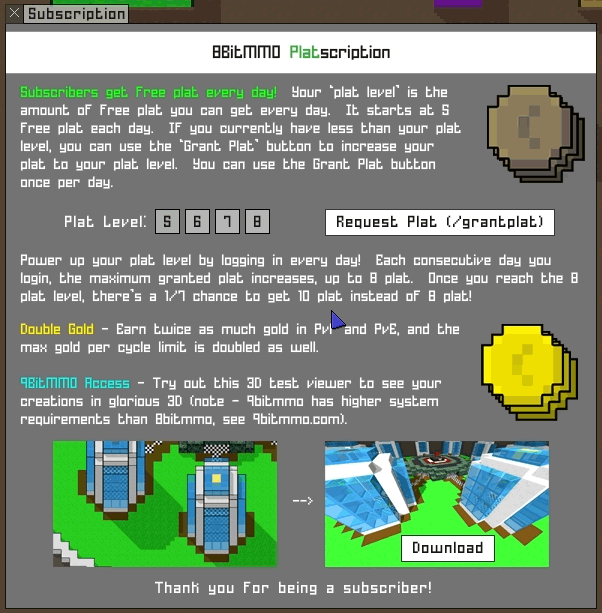 Chat shortcuts:
/platscription – show platscription information popup window
/grantplat – request daily allotment of plat (subscribers only)
Direct link to subscription web page
Misc shop updates
In the shop, the following additional pricing changes have been made:
Mystery block 3750g -> 2500g
Expand 250 block 5p -> 8p
Public pad 12p -> 10p