I have just added food to the game.  A chicken leg can be bought in the shop for a couple gold in the Household Goods section.  Once you've placed it in the world, press E to eat some delicious rotisserie chicken.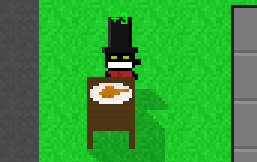 Thanks to zloc6 and nine others for suggesting and voting this in the suggestion box.
PS - making chicken art and code today has left me FAMISHED.  Hehe.